On Thursday, Oct.19,2023 some of our wonderful church ladies gathered at St. Tim's kitchen to prepare pies for our coming Bazaar. It was a great time of fun and fellowship. Thanks to all who prepared the delicious pies.
Thanksgiving Sunday was celebrated on Oct.8. Our congregation gave thanks to our Lord through prayers and praise. We enjoyed The Singing Saints' piece "Give Thanks". The highlight of the service was the contribution of Helen L. & Juliet B. sharing their own weekly journal & giving thanks on how they noticed God working through the ordinary/ little things.
Sunday, October 1st was World Communion Sunday. With brothers and sisters around the world, we gathered to worship God, whose faithfulness endures forever. It was a privilege to have Rev. Tom Hamilton with us and be part of the communion service. Our talented organist played our hymns and Helen O presented special music singing a very nice hymn. After the service, we all enjoyed a time of fellowship and nice conversations.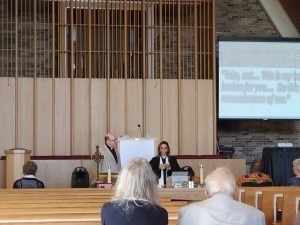 Sunday September 10, St. Timothy held its annual Welcome back Sunday. It was a fun filled day and the BBQ was delicious. Big thank you to the Fellowship committee for organizing and planning this wonderful celebration. 🎉🙏🏽🤗
Big congratulations to Kelvin and Anna Lee.
May God's blessings sustain the wonderful couple for a life filled with love and Joy
On June the 10, the Stewardship committee at St. Timothy's planned a Garage Sale where people from the congregation as well as the community took part in it.Yummy barbecue & coffee were enjoyed by all.        Big thank you to all who put the time and the effort to make this event a success.
Church is fun & Jesus is our best friend: this is what our children learned through the week long stuffies sleepover activity at St. Timothy's: Sunday June 11th was an exciting & enjoyable Sunday at our church. The stuffies were waiting to be reunited with their friends after a long week of learning and fun! Our Sunday school kids watched a video and got to know what their stuffies were up to during that week.
April 30th was a special Sunday at St. Timothy's. As a family of faith, we thanked God for His faithfulness and for dwelling among us during St. Tim's 66 years of ministry. Mr. Ian Shugart led us with a powerful message, and Mrs. Ruth Toller was acknowledged for her long commitment to St. Timothy's. Some recent members who joined our big family shared their St. Tim's story. The little angels sang for us "A Gift to You" and Karen Abboud treated us playing "Way Maker" on her violin accompanied by Louise on the organ.
Our gifted organist, Louise & the singing saints concluded the service by performing a wonderful hymn which left us all in awe. A yummy Potluck lunch followed, and everyone enjoyed themselves and had so much fun!!!!❤️
Hosanna to the Son of David!" "Blessed is he who comes in the name of the Lord!" "Hosanna in the highest heaven!"
A special Sunday at St. Timothy's yesterday!!!!
The black history month was celebrated yesterday, Sunday the 19th of February,
and the  African Chorus led the service!!! Big congratulations to you all for the wonderful service we all enjoyed. The spirit of God was in our midst!!!!
The uplifting, joyful music & the meaningful message left us all in awe.
The yummy food made everyone feel home❤️
A Joyful Sunday at St. Timothy's! Our Sunday school kids presented the Christmas pageant 2022, A New Star!
They did a great job sharing with us the Christmas story & sang beautiful hymns.
Big thank you to our Christian Education committee & the Sunday school teachers for making this service a big success
Third Sunday in Advent. We lit the candle of joy. Great participation by many gifted and dedicated people.
Tuesday, December 6 was another joyful event at St. Timothy's.
Special Christmas program was enjoyed by everyone. It was great to see some long – time – no – see members.
Christmas carols were led by Molly Olshefsky &Mike Powel . Rev. Reine served communion and all had fun chatting and visiting over coffee & cookies.
Church is fun?!!
After the service on December 4, some of our Kids & their families had fun decorating their gingerbread houses while listening to Christmas Carols!!!
All enjoyed the yummy pizza & had a wonderful time singing & dancing.
O come, O come, Emmanuel,
This is how our first Sunday in the Advent season started at St. Timothy's. Our talented musician Karen Abboud played on her violin the tune of this hymn while we listened to an inspiring meditation preparing us for welcoming our Lord. The Ginting family led the call to worship and lit the candle of Hope. The joyful Noise Team along with our organist performed a beautiful hymn " Hope is a star".
Rev. Reine, Molly O. and Kelvin L. led us with a great message reflecting on the Story of Hope that goes back hundreds of years ago, and invites us to look forward to the future in anticipation.
It was a pleasure to have Rev. Tom Hamilton taking part in the communion service.
Advent blessings everyone
On November 19, 2022 St. Timothy's family was busy having their Church Bazaar. Everyone worked hard with a sprit of joy and excitement to exhibit their goodies. Many people from the church & community joined and enjoyed a time of shopping as well as a meaningful fellowship with others. A Yummy meal was enjoyed by all.
Big thank you goes out to all those who made our Bazaar a big success.
Reformation Sunday, the time when we reflect on what happened on the 31st of October 1517, when the German monk Martin Luther nailed his Ninety-five Theses on the door of the All Saints' Church in Wittenberg was celebrated during our worship service at St. Timothy's on Sunday October 30, 2022. We took a journey of learning and meditation using the vehicle of the Five Solas.Five members of our church family took parts in the scripture readings, and reflections explaining each Sola. The congregation joined in singing beautiful hymns from the spirit of the reformation.The highlight of our Sunday was the children Story Time where we had Mr. Martin Luther himself as our guest speaker.
On Sunday, October 23rd, the four sons of Helen Otimbili and Michael Orock were baptized in a special service. A joyous celebration, which the congregation was invited to join, took place after the service. Congratulations to the entire family at this happy time!
Congratulations to Frederick and Christiana Acheampong on the baptism of their lovely baby daughter. She was introduced to our Sunday School children after the baptism was performed. A joyous time for St. Timothy's.
On a beautiful September Sunday, baby Josiah Acheampong, son of Samuel & Gifty, was baptized during our morning service. Congratulations to the family, it was a joyful, blessed event.
St Timothy's celebrated Mission Sunday on September 11th with special music, prayers and information about the different 'Mission' projects our congregation has supported. Our guest speaker, Jake Harding from the Ottawa Mission, gave us an overview of the many programs the Ottawa Mission supports. We were very impressed by the scope of work and support they provide! After the service everyone enjoyed a barbeque with corn and hotdogs.
SEMOH Cameroon: Our Mission and Outreach Committee recently received information from one of our members that his home church in Cameroon had approached him for help. There are 50 widows in their congregation who receive no government support and have no money to feed their children. When a husband dies the family is left without any means of support. A donation of $55 per lady could help them start a new business or reinforce an existing business to provide them with an income. Our generous congregation donated enough money to provide all 50 widows with $55 each. This is part of the wonderful thank you letter that they sent:
"We had a meeting a month after the money was distributed and the testimonies from these ladies was tearful: One of the ladies, a widow with 6 young children tearfully said: "…who said God is not real… for people far away in a country and community, who have never seen us, or come to Cameroon… to support us with our families…make it possible me to run a small business and feed my children is a miracle…there are still good people in this world… thank God for this people"
This is the Year of the Garden and St Tim's nine well-tended community garden plots have been flourishing. This season, produce from two of the plots is dedicated to the Heron Emergency Food Centre. So far, we have delivered a load of potatoes, numerous bunches of turnip greens and a fine crop of beets. More root vegetables will be ready soon! Thank you to our dedicated gardeners. The community newspaper, VISTAS, will feature an article on our garden plots as well as St Thomas Community Gardens in it's upcoming October issue
On the 31 of July, some of our families from St. Timothy's, spent a fun day in Morrisburg. Nice fellowship was enjoyed by all & the children had a blast at the splash pad & the playground. It was a blessing to enjoy God's beautiful creation and have this wonderful time together.
STORYTIME@ ST.TIMOTHY'S: Kneading, boating or playing, we learn by doing! Join us every Sunday at 10:00 am.
The Ex Students of Saker Baptist College Cameroon (EXSSA) Canada were celebrating their jubilee and they visited and worshipped at The St. Timothy Presbyterian church Ottawa. They sang songs and hyms in their beautiful uniforms.
Though Session does not meet during the summer, some of us gathered socially to honour Linda Walker and to thank her for all the work and time she has given to St Timothy's for many years. She has spent endless hours  in the background,  unbeknownst to most, keeping us in motion. Our  good wishes were offered to Linda  on her continuing  journey as she makes a new home in Perth, though we will be seeing her frequently
On June the 11th, the Stewardship committee at St. Timothy's planned a Garage Sale where people from the congregation as well as the community took part in it.
Yummy barbecue & coffee were enjoyed by all.
Big thank you to all who put the time and the effort to make this event a success.
Our youth presented a wonderful Christmas Pageant at our service on Sunday December 22nd.  Readings of the Christmas story, along with the re-enactment of the events, were enjoyed by all members of the congregation.  Thank you to our young members for a beautiful presentation
On the second Sunday of the month our enthusiastic African Chorus performs wonderful African Spirituals for the congregation during our worship service
Enjoying Cafe Connections.  Every Friday from 9:30 to 11:30.
Our Family Service on November 24th, was lead by many of our St Tim's families. Rev Feras Chamas, husband of our minister Rev Reine Boghos, presented the sermon.  It was a wonderful service, followed by a light lunch and refreshments in the Main Hall
Members of the congregation gathered to prepare Elsa's Lentil Soup to be served at the Family Sunday Service.  Elsa, Rev Reine's sister, would make this soup for their family.  Our youth served the soup and it was thoroughly enjoyed by our congregation family
Preparing the Bulletin Boards for the Christmas Season
The Joyful Noise Team, a self directed team of singers and musicians, performing a wonderful hymn at Sunday's service
Our minister, Rev. Reine Boghos with Rev. Floyd McPhee, our previous minister, enjoying the church bazaar
St Tim's annual Candy Cane Bazaar was held on November 16th.  Many hands worked to make sure everything was ready when the doors opened.  Ernie, our chef, along with many helpers, prepared a delicious Turkey a la King luncheon that was thoroughly enjoyed by all.
Enthusiastic bakers preparing apple pies for our Christmas Bazaar.
Our Fall Fellowship Luncheon took place on a lovely fall day.  We sang our favorite hymns, celebrated Communion, ate a delicious lunch and enjoyed the fellowship of many friends around us.
On Monday, Wednesday and Friday mornings our sanctuary is filled with the beautiful sound of organ music played by Gwen Bergman
St Timothy's is very fortunate to have our own African Choir made up of church members.  They provide wonderful music during church services on a regular basis
For several weeks our Youth collected donations for their walk to support Heron Emergency Food Centre.  On a sunny, but chilly Sunday they bundled up and enthusiastically completed a 4 km walk.  They were able to raise nearly $400 for the Food Centre.  Our thanks to them and the adults who accompanied them!
Conversation and laughter flowed at the recent Friday morning Cafe Connection gathering
Rev. Reine talking about Communion during Children's Time at our worship service
Fun Day: Kids having fun baking cupcakes and playing Fruit of the Spirit Bingo Game!
The Great Egg Challenge! During the Pizza & Devotions meeting, senior youth competed in The Great Egg Challenge! The challenge was to create an "egg carton" that would protect an egg dropped from a height of 6 feet. Both eggs cracked!
So it was a tie
Vegetables harvested from St Tim's church garden to be donated to Heron Emergency Food Centre
A beautiful anthem performed by St Tim's choir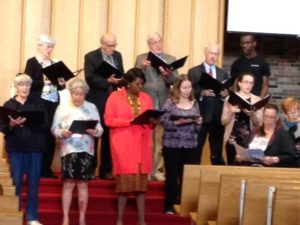 Our Welcome Back BBQ was held on Sunday September 15 on a cool, but sunny fall day.  The lineup for hot dogs and hamburgers was long, but everyone enjoyed them tremendously!  Lots of happy faces and good fellowship
Cafe Connections will be a weekly Friday morning gathering from 9:30 to 11:30 over coffee or tea as an opportunity for people from the community and the congregation to gather in fellowship. Our motto is "A little bit of coffee & a lot of love".  The room was abuzz with conversation at our first event on Friday, September 13th.  Be sure to drop in and enjoy meeting new friends and being part of the conversation
From little seeds planted by our youth in the spring, St Tim's gardens have produced amazing crops.  Some of our gardens belong to congregation members and some have been planted to provide vegetables for the Heron Road Food Bank.
On warm sunny Sundays St. Tim's enjoys worship service with Reverend Reine Boghos and Fellowship with refreshments on the lawn.
'After many years of dedicated service to St Timothy's as our Office Administrator, in addition to many other roles, Norah Heggie will be leaving that position. We wish Norah the very best and offer our sincere thanks for her devotion to St Tims.
On a beautiful sunny afternoon, after the youth service on June 9th, the congregation enjoyed a delicious BBQ.  Our two BBQ chefs were kept busy filling orders for hot dogs and hamburgers.  There was plenty to eat and everyone enjoyed fellowship on the lawn
Our special speaker on Sunday, May 26 was Rob Robertson, Convener of PWS&D Committee and an Elder at St. Andrew's Ottawa.  He provided thought provoking information on the work done by PWS&D, and outlined how even a small donation can be used to achieve life altering results.  We are all encouraged to contribute to their Loaves&Fishes Fund which can be found on their website.  Special Music for the service was performed by Helen Otimbili.
St Timothy's E-Waste collection, two bins completely full of electronic waste and clothing!  Thanks to the volunteers and doners.
Our recent Youth Fun Day involved food, balloons, duct tape and cups.  Resurrection rolls, crescent rolls stuffed with cinnamon and sugar coated marshmallows, were a big hit.
Our 62nd Anniversary celebration continued with cake, ice cream and fellowship.  Our Musical Director, Louise Thompson, is shown with one of our early members, Ruth Toller.  Ruth wrote St. Timothy's Anniversary Hymn which we sing for every Anniversary service.  Rod MacLennan shared pictures of the early days at St. Tim's.  A warm Thank You to all who made our service so special and shared memories with the congregation.
St Timothy's celebrates their 62nd Anniversary with our worship service led by our special guest Ian Shugart, Clerk of the Privy Council.  We also enjoyed wonderful musical accompaniment provided by the Polished Brass Quintet
Easter Fellowship Luncheon, a time to sing our favorite hymns, participate in Communion and enjoy some good food and fellowship.
Celebrating the joy of the Easter season.  Christ has risen, Alleluia!