Our Fall Fellowship Luncheon took place on a lovely fall day.  We sang our favorite hymns, celebrated Communion, ate a delicious lunch and enjoyed the fellowship of many friends around us.
On Monday, Wednesday and Friday mornings our sanctuary is filled with the beautiful sound of organ music played by Gwen Bergman
St Timothy's is very fortunate to have our own African Choir made up of church members.  They provide wonderful music during church services on a regular basis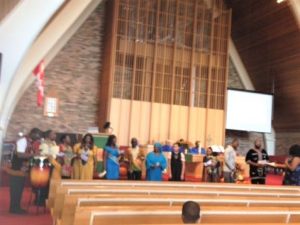 For several weeks our Youth collected donations for their walk to support Heron Emergency Food Centre.  On a sunny, but chilly Sunday they bundled up and enthusiastically completed a 4 km walk.  They were able to raise nearly $400 for the Food Centre.  Our thanks to them and the adults who accompanied them!
Conversation and laughter flowed at the recent Friday morning Cafe Connection gathering
Rev. Reine talking about Communion during Children's Time at our worship service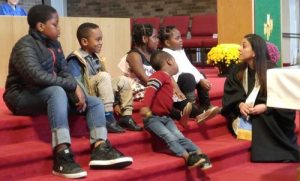 Wonderful crop of potatoes harvested from church garden in support of Heron Emergency Food Centre.
Come join us for Cafe Connections every Friday from 9:30 to 11:30.  Coffee, refreshments, conversation and love.
After baking and decorating dozens of cupcakes our Youth had them for sale to an appreciative congregation during coffee hour after church.  They raised $120 which will be donated to the re-flooring fund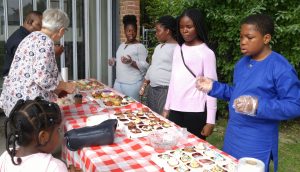 School Kits for Kids
Money raised by St Tim's provided school supplies for children in DR Congo. This in turn allowed impoverished families of these students to invest the money saved into income generating ventures thus benefiting the entire family. The project brought the needs of these schools to the attention of the DR Congo government who has since committed to rebuilding the schools. As quoted by a parent: "It is small streams that fill the ocean." Like the fishes and the loaves story in the Gospel, God turns one small act of kindness towards a few and turns it into a blessing for many!
Birthday Celebrations!
Birthday cake and song for those celebrating birthdays in July, August and September.
Fun Day: Kids having fun baking cupcakes and playing Fruit of the Spirit Bingo Game!
The Great Egg Challenge! During the Pizza & Devotions meeting, senior youth competed in The Great Egg Challenge! The challenge was to create an "egg carton" that would protect an egg dropped from a height of 6 feet. Both eggs cracked!
So it was a tie
Vegetables harvested from St Tim's church garden to be donated to Heron Emergency Food Centre
A beautiful anthem performed by St Tim's choir
Our Welcome Back BBQ was held on Sunday September 15 on a cool, but sunny fall day.  The lineup for hot dogs and hamburgers was long, but everyone enjoyed them tremendously!  Lots of happy faces and good fellowship
Cafe Connections will be a weekly Friday morning gathering from 9:30 to 11:30 over coffee or tea as an opportunity for people from the community and the congregation to gather in fellowship. Our motto is "A little bit of coffee & a lot of love".  The room was abuzz with conversation at our first event on Friday, September 13th.  Be sure to drop in and enjoy meeting new friends and being part of the conversation
From little seeds planted by our youth in the spring, St Tim's gardens have produced amazing crops.  Some of our gardens belong to congregation members and some have been planted to provide vegetables for the Heron Road Food Bank.
On warm sunny Sundays St. Tim's enjoys worship service with Reverend Reine Boghos and Fellowship with refreshments on the lawn.
'After many years of dedicated service to St Timothy's as our Office Administrator, in addition to many other roles, Norah Heggie will be leaving that position. We wish Norah the very best and offer our sincere thanks for her devotion to St Tims.
On a beautiful sunny afternoon, after the youth service on June 9th, the congregation enjoyed a delicious BBQ.  Our two BBQ chefs were kept busy filling orders for hot dogs and hamburgers.  There was plenty to eat and everyone enjoyed fellowship on the lawn
Our special speaker on Sunday, May 26 was Rob Robertson, Convener of PWS&D Committee and an Elder at St. Andrew's Ottawa.  He provided thought provoking information on the work done by PWS&D, and outlined how even a small donation can be used to achieve life altering results.  We are all encouraged to contribute to their Loaves&Fishes Fund which can be found on their website.  Special Music for the service was performed by Helen Otimbili.
St Timothy's E-Waste collection, two bins completely full of electronic waste and clothing!  Thanks to the volunteers and doners.
Our recent Youth Fun Day involved food, balloons, duct tape and cups.  Resurrection rolls, crescent rolls stuffed with cinnamon and sugar coated marshmallows, were a big hit.
Our 62nd Anniversary celebration continued with cake, ice cream and fellowship.  Our Musical Director, Louise Thompson, is shown with one of our early members, Ruth Toller.  Ruth wrote St. Timothy's Anniversary Hymn which we sing for every Anniversary service.  Rod MacLennan shared pictures of the early days at St. Tim's.  A warm Thank You to all who made our service so special and shared memories with the congregation.
St Timothy's celebrates their 62nd Anniversary with our worship service led by our special guest Ian Shugart, Clerk of the Privy Council.  We also enjoyed wonderful musical accompaniment provided by the Polished Brass Quintet
Easter Fellowship Luncheon, a time to sing our favorite hymns, participate in Communion and enjoy some good food and fellowship.
Celebrating the joy of the Easter season.  Christ has risen, Alleluia!
On Sunday February 17th The African Chorus of St Timothy's held a wonderful, joyful service to worship God, with an African touch, and to celebrate Black History Month. After the service everyone was invited to get together in the church hall for a taste of exotic cuisine from the native countries of members of the Chorus. It was a celebration enjoyed by all!
St Timothy's Youth Mission Project, in support of Heron Emergency Food Centre, was a chili lunch on February 10, immediately following the worship service.  The congregation enjoyed a delicious lunch, which included desert, served with enthusiasm by our youth.  The 'free will offering' received generous donations which will be given to the Food Centre.  Congratulations to our youth for creating this project to help those in need.
St. Timothy's congregation are very pleased to welcome Reverend Reine Boghos as our new minister.  On Sunday, January 6, 2019, Reine's induction took place at St. Timothy's and was followed by a reception.
Birthday Celebrations for all those with Birthdays in October, November and December
St Tim's Youth perform the Christmas Pageant for the congregation on Sunday December 23rd
St Timothy's youth preparing for the Christmas Pageant
The October Fellowship Luncheon was a time to enjoy conversation, a favorite hymn sing, Communion and good food.
Birthday celebrations were enjoyed by all!
The Valley Men's Choir performed a wonderful concert for an appreciative
audience on Saturday, September 30th.
On a cool Sunday, September 9th we enjoyed our 'Welcome Back BBQ
Beautiful hot sunny weather, lots of food, fun and games created a wonderful
day to celebrate at St Tim's August 4th Family BBQ.
On Sunday, July 29th the congregation of St. Timothy's bid a Fond Farewell to
Reverend Floyd and Claire McPhee.  Reverend Floyd has been our Minister for the
past 4 years and, during that time, the congregation have been very appreciative
of all that he and Claire have done for us.  We wish them all the best in their
new endeavors
Our second celebration of 'Taste of Africa' on Saturday July 14th was a wonderful presentation of music and fashion.  St Timothy's African Chorus treated all present to an evening of enthusiastic entertainment followed by a feast of delicious food.   It was enjoyed immensely by all.
St Timothy's slate roof repairs begin, a big machine for a big project!
On Sunday, June 17th, St Tim's congregation gathered to celebrate and express
their deep appreciation to Rev. Dr. Floyd McPhee and Claire McPhee for their
support and guidance during the past 4 years.  A pot luck luncheon was followed
by speeches, entertainment and a gift from the congregation.
On Sunday, June 10 our church service was lead by St Tim's Youth with the
support of Nic Larouche, Church School Coordinator. The service was well
presented with many readings and song and thoroughly enjoyed by the congregation.
Our Spring Fellowship Luncheon was held on Tuesday, May 15th in the GoForth room at St Tim's.  It was a time to sing our favorite hymns followed by worship with communion.  We enjoyed a lovely lunch and fellowship.  A wonderful event enjoyed by all!
On Sunday, April 29th, a joyous celebration was held to celebrate St Tim's 61st Anniversary.  Audrey Phillips, one of our founding members, was recognized for her contribution to the creation of St Timothy's.  Reverend Grant Wilson acted as guest minister on this special occasion.  The African Chorus provided lively musical entertainment.  We were also joined by guest musicians, 'The Polished Brass Quintet' who accompanied the hymns as well as presenting some special pieces of their own.  George McCully, who has been our Roll Clerk for many years, was recognized for his years of service.  After the service, the congregation and visitors enjoyed a time of fellowship along with cake and apple crisp.
St Tim's youth creating the Easter Garden
Celebrating those with January, February and March Birthdays
On Friday, March 2, 2018, St Timothy's Afternoon Circle hosted the World Day of
Prayer. This years theme was All of God's Creation is Very Good! and featured
the country Suriname.   The celebration worship service was created by the women
of Suriname.  Salvation Army Pastor, Deanna Verhey, who worked in Suriname, was
guest speaker and provided insights about the people and the country. The
reception following the worship service provided opportunities to experience
Suriname culture through food and displays
BLACK HISTORY WORSHIP SERVICE:  On Sunday, February 18th, St Timothy's African
Chorus presented a joyful service celebrating Black History.  After the worship
service there was a get-together in the church hall featuring exotic cuisine
from the native countries of members of the African Chorus.  It was an event
enjoyed fully by all congregation members and visitors
On Sunday February 11th our youth served a chili lunch to the congregation
after our regular church service.  The free will offering raised $354.80 which
will be donated to the Heron Emergency  Food Centre.  Combined with the
walk-a-thon held last October, the youth have now raised $695.  This goes a long
way to providing a nutritious 3-day emergency supply of food to our neighbours
with food insecurities
The Junior Youth Group making cupcakes to sell the next
day at Coffee Hour after church.  They raised a total of $197 to be donated to
the Slate Roof Fund.  Congratulations to all the bakers!
Our Celebration with Congregation Members who have Birthdays in October,
November and December
St. Timothy's Youth present the Christmas Pageant
St Timothy's 9th Annual Christmas Concert, Sunday, December 3rd.  Wonderful Christmas music performed by a variety of local artists and Carols sung by all.
St. Timothy's youth preparing for the Christmas Pageant to be held on Sunday, December 17th during our worship service.
'St Timothy's Candy Cane Bazaar Saturday, November 18.  Wonderful Baking and Deli, Hand made Crafts,  Treasures, Special African Table, Silent Auction and a Delicious Turkey a la King Luncheon'
Our 60th Anniversary Celebration and Potluck was held on Saturday, October
28th.  Good food and Fellowship followed by a lively Auction.
St Timothy's Youth serving refreshments during Coffee Hour after Church,
Sunday, November 5th.
A successful E Waste and Used Clothing Collection held on October 15 and 16, 2017
Congratulations to our Youth who raised $600 for the Heron Emergency Food Centre on their Youth Mission Walk-a-Thon, October 15, 2017.
St Tim's was rocking on Sunday afternoon to the music of E.H. Gospel Sound. Wonderful concert!
St Timothy's community gardens, tilled and ready for the first planting.  Members of the congregation have taken over all of the plots except for one.  The last plot will be planted with vegetables that will be donated to the Heron Food Bank
God's bounty from St Tim's Garden to Heron Emergency Food Centre
Donated so far: 80 Cucumbers, 26 Bunches of chard, 12 Peppers, 6 Cabbages, 31 Tomatoes, 15 Carrots.Praying for more warmth so more veggies can ripen