MONDAYS – 2:00 PM – AFTERNOON CRAFT GROUP –  GOFORTH ROOM
This is a pleasant, informal group and you are invited to come out and give them a try – you would be very welcome.  You can work on whatever you want to do and enjoy the company and a cup of tea.  They would be glad to receive fabric/wool remnants, sewing notions and craft accessories.  If there are any questions, please contact Charlotte Craig (521-2901) or Helen Lee (731-8238)
WEDNESDAY BIBLE STUDY:  The Wednesday Bible Study Group meets every Wednesday at 10am.  We are studying "Christian Beliefs".  All are welcome.
SATURDAY, NOVEMBER 17 – ST. TIMOTHY'S CHRISTMAS BAZAAR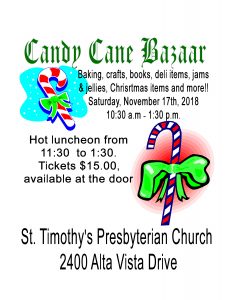 MONDAY NOVEMBER 19TH – 7:00 PM – EVENING BIBLE STUDY – EVERY SECOND MONDAY 
Evangelism: A Way of Life  –  Led by Mike Powell
TUESDAY NOVEMBER 20 – 10:00 AM – JOY GROUP – GOFORTH ROOM  –
Enjoy a movie at 10:00 and home cooked meal at 12 noon.  For meal planning
purposes please contact one of the following conveners if you plan to attend –
Shirley Norris – 613-523-1091; Ann-Louise Stevens – 613-521-4286;Molly Olshefsky – 613-5221-3070, and Jen Cranston – 613-733-3611.